What is ITIL
ITIL is the most widely recognised framework for IT enabled services in the world. It supports organisations and individuals who want to gain optimal value from IT and digital services. It helps define the direction of the service provider with a clear capability model and aligns them to business strategy and customer needs.

ITIL provides comprehensive, practical, and proven guidance for establishing a service management system, and is utilised by 82,5% of Fortune 500 companies. It also provides a common language (glossary of terms) for businesses using IT-enabled services.

ITIL 4 is the evolution of this well-established framework, a flexible end-to-end IT/digital operating model for the delivery and operation of tech-enabled products and services. The ITIL 4 framework helps organizations meet the digital transformation challenges of our times, that are relevant not only to ITSM professionals, but also to a wider range of professionals working in the digital world.

Your ITIL 4 certification journey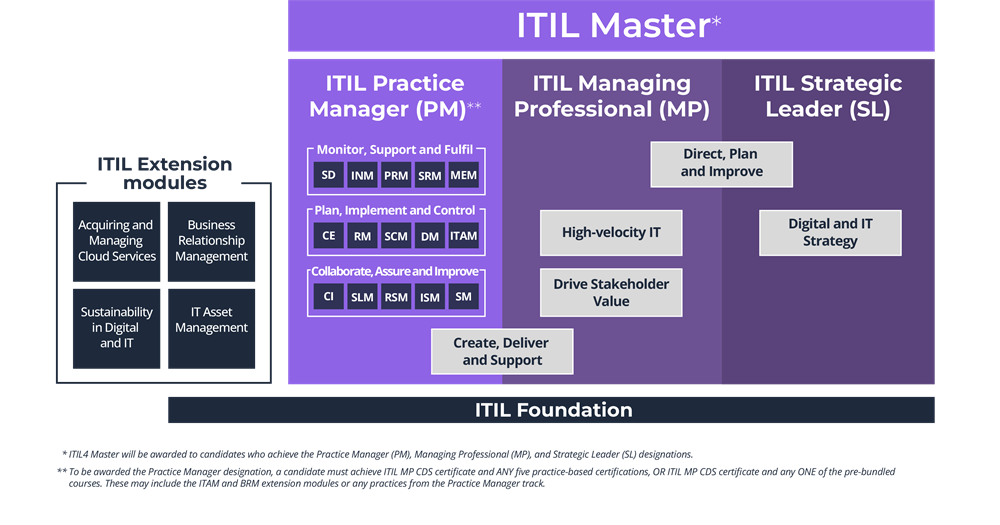 ITIL can help IT professionals involved in the delivery or support of IT services and business professionals who want to understand how they can use IT to maximize their business potential.
ITIL 4 provides a comprehensive guidance, training, and certification, in the following levels:
ITIL Foundation ITIL Managing Professional ITIL Strategic Leader ITIL Practice Manager ITIL Extension Modules ITIL 4 Master